May 2012: Exhibition at Chateau de St-Maurice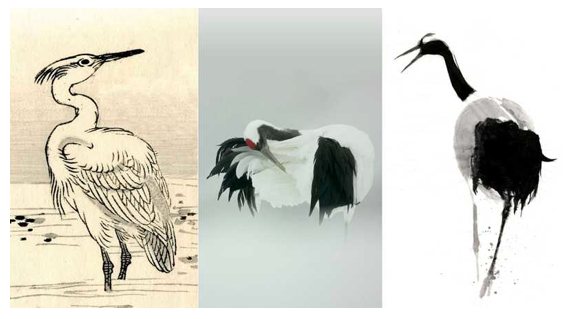 Martin will participate at a group exhibition together with French painter and scupltorer Eric Alibert at the beautiful location of Chateau de St-Maurice. Twenty of Martin's large format images from Hokkaido will be on display from May 4 (opening at 6 p.m.) until November 4.
For further information have a look on the official homepage:
http://www.expochateau.ch
April 2012: New article and interview on Canon Professional Network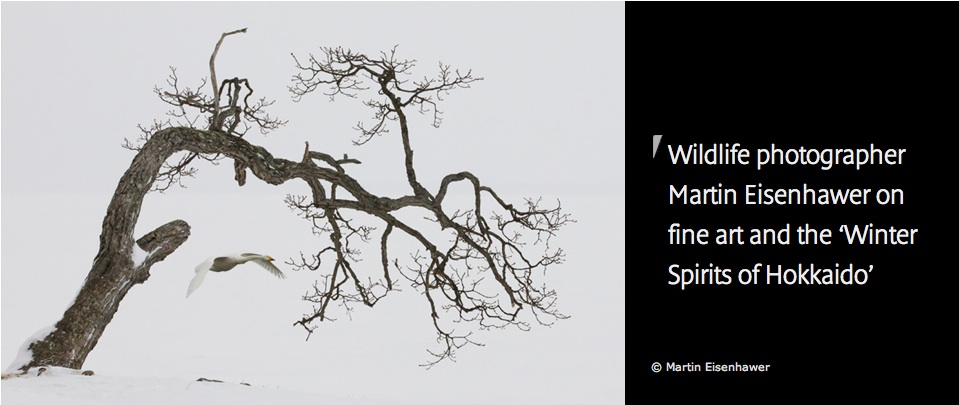 Mike Stanton has interviewed Martin on his works on Hokkaido and his move to art photography. The article is available online at:
http://cpn.canon-europe.com/content/interviews/eisenhawers_winter_spirits.do
January 2012: Portfolio of Martin's photographs from Japan in Finart Printer Magazine
Finartprinter Magazine, the leading german magazine for fineart prints and fineart printing has published a portfolio of Martin's images from Japan in it's 1/2012 issue. FineArtPrinter Magazine has published a portfolio of my images from Japan in its first issue for 2012. The homepage of the magazine can be found here: http://fineartprinter.de and the issue 1/2012 can be ordered here http://fineartprinter.de/FineArtPrinter-Kiosk/Ausgaben/FineArtPrinter_1-12
November 2011: Exhibition "Beruehrungspunkte zweier Welten" at the Japanese Embassy, Bern, Switzerland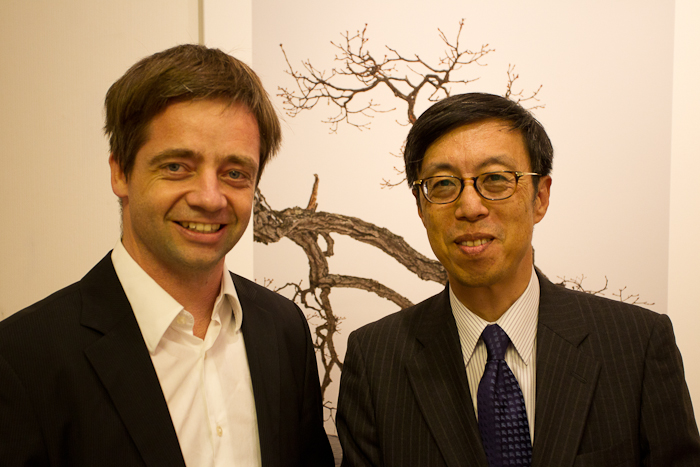 Martin Eisenhawer and His Excellency, Mr. Kazuyoshi Umemoto, Ambassador of Japan
From November 18th until December 3rd, the Japanese Embassy's Information and Cultural Center in Bern/Switzerland features a photo exhibition about Japan. The "two worlds" shown are street scenes from Tokyo of Swiss photographer Daniel Gendre and 30 large format prints of Martin's photographs from Hokkaido on Hahnemuehle fineart paper. 20 of Martin's images are 100 by 140 cm and 10 are 80 by 110 cm.
"When I first saw them presented in this form I immediately realized that this is how they should be seen. This exhibition is a culmination of many years visiting Japan. In March 2011, I had just left Hokkaido and was traveling between Tokyo and Fukushima when the devastating earthquake struck. Through these images I hope to share my reverence for the beauty and fragility of nature in Japan. In times of terrible events, may these images bring hope but also remind us of the natural wonders at the mercy of technology and our stewardship."
For further information have a look on the official homepage:
http://www.ch.emb-japan.go.jp/jicc/fotoausstellung_2011.htm
October 2007: New success at the BBC Wildlife Photographer of the Year Competition
This year, the world's most prestigious competition received more than 32'000 entries from all over the world. "I am really excited that my image "Penguin in a sandstorm" has been awarded a "highly commended" with the BBC Wildlife Photographer of the Year 2007 competition. After my two category winners with the same competition in 2005, I consider this as good luck again and a great reward for my work. I am looking forward to the award ceremony in London, to meet old and new friends and to enjoy the atmosphere in the beautiful Natural History Museum in London." The winning images are published on this website: http://www.nhm.ac.uk/visit-us/whats-on/temporary-exhibitions/wpy/ and the exhibition will tour the world as usual.
August 2007: Festival photo and exposition at Montier-en-Der, France
The organizers of the biggest French nature photography festival in Montier-en-Der have chosen Martin's image "Taking care of the kids" as the festival photo for their festival poster, the flyer and main image on their website. Many thanks to them for this honour. Also, Silvia and Martin are invited as honorary guests and will present a large format exhibition during this festival which will be held from November 16th till 18th, 2007 in Montier-en-Der, France. "It would be a pleasure to meet you there. Montier is a nice venue, you'll have a good chance to see wild cranes during your stay." To find out more about the festival please have a look here: http://www.festiphoto-montier.org/
April 2007: Article on CPN
Canon Professional Network (CPN) have published an article about Martin with the title "Life in a Cold Climate" in their "Behind the lens" section. The article shows some of Martin's prize winning images and concentrates on recent work he has done in Antarctica, the Falkland Islands and Spitsbergen. "I am really glad about the chance to publish with CPN as not many nature photographers have been represented with their site and the predecessor." You'll find the article here: http://cpn.canon-europe.com/content/btl/eisenhawer.do
March 2007: Polar bear trip
"What a unique experience. After all the attention Knut is receiving these days, mostly experienced by people sitting in their armchairs watching television, I was thrilled to have a chance to observe young polar bears emerging from their dens in their natural environment. There were some mothers with cubs on their way to the coast trying to catch some seals after loosing a lot of weight during the long time in the den without food and suckling the cubs. It is a unique feeling to sit in the snow and all there is between you and a 200 kg polar bear is your tripod and the camera. This experience involved being confined to a small hut for days waiting for the blizzard to stop, getting my cheeks and my fingers frozen at –42°C (-46F), wind chill included, and occupying a snow hare's home for the night. Many thanks to the guides. It was amazing how they were able to track the bears in really difficult conditions. I hope to have another chance to see these beautiful animals again. The prospect of loosing them forever because of the disappearance of the polar ice at least partially due to the way we treat the earth just makes me sick."
February 2007: GDT
The Society of German Nature Photographers (GDT) elected Martin into their directory board. GDT is the biggest society for nature photographers in Europe, presently counting more than 800 members. GDT promotes non-manipulated nature photography in order to address the need of protection of nature to a large public. "I am glad about the appointment and hope that I will be able to assist the Society to maintain and develop the high ethical and artistic standards and to be open to future developments." The English version of the GDT website can be found here: http://www.gdtfoto.de/content.php?start=ok&s_res=1280&lang=en
January 2007: 12 week Antarctica, Patagonia and Falkland Islands trip
Martin is back from a 12 week trip to Antarctica, Patagonia and the Falklands Islands. "This trip was truly amazing. I sweated with emperor penguins, saw the most amazing mountains (and that is saying something coming from someone living in Switzerland), got close with fighting elephant seals, had dirt picked of my shoes by king penguins, took a shower with the rockhoppers and was able to enjoy the grace of the black-browed albatrosses very close (one even touched me flying by, he had obviously miscalculated the distance). My tent almost didn't survive the trip, I had to put it down in a gale one night at 4 a.m. and spent the rest of the night under some rocks. Right now I am preparing the images, so you should be able to see the results quite soon."
November 2006: Geo cover contest
Geo has chosen Martin's image "Red crowned Crane in the Fog" as the only wildlife image among the 15 best received images for their coverpage contest for an issue on Japan. The 15 images chosen can be found here: http://www.geo.de/GEO/fotografie/fotoshows/52338.html?t=img_overview
October 2006: Two awards at European Wildlife Photographer of the Year Competition
The European Wildlife Photographer of the Year Competition 2006, organized by the Society of German Nature Photographers, awarded two of Martin's images. My "Red crowned crane in the fog" was the runner-up in the birds category and the picture of a baby elephant "First river crossing?!" received a highly commended in the mammals category. The images feature in several newspapers and magazines in Berlin right now, since Berlin hosts the competition exhibition which will tour through various countries. The images of the competition can be found here: http://gdtfoto.de/content.php?siteloc=257
June 2006: BBC Wildlife Photographer of the Year entry form cover
Martin's image of whooper swans has been chosen for the front cover of the 2006 Shell Wildlife Photographer of the Year Competition's entry form.
November 2005: Martin Eisenhawer on National Geographic News and BBC News
One of the two BBC Wildlife Photographer of the Year winning images has been published by the online version of National Geographic News under http://news.nationalgeographic.com/news/2005/10/photogalleries/best_animal_photos/photo3.html
and by the BBC News under http://news.bbc.co.uk/1/hi/sci/tech/4355628.stm

October 2005: Big honor, Two category winners at the BBC Wildlife Photographer of the Year Competition
Two of Martin's images are category winners in the BBC Wildlife Photographer of the Year 2005 contest. This is the world's most prestigious competition for nature photography The winning photographs were chosen among more than 15'000 entries from over 60 countries and tour the world in an exhibition, which visits more than 30 countries, including Australia, Brazil, France, Germany, Japan and the USA. Martin won the Gerald Durrell Award for Endangered Wildlife and the Animals in Their Environment award. "I am extremely honoured to have won these two categories as my main motivation for nature photography comes from the wish to contribute to the conservation of our endangered wildlife and habitats and I also believe that nature photographs showing animals in their natural habitat can pay a very efficient contribution to this goal." For more information on the competition, see:
http://www.nhm.ac.uk/visit-us/whats-on/temporary-exhibitions/wpy/

The Darwin Centre of the Natural History Museum in London invited me for a discussion about photography, which will be broadcasted live on the internet on Thursday, October 20th under:
http://www.nhm.ac.uk/nature-online/science-of-natural-history/darwin-centre-live/index.html